Zanimiva delnica: ING skupina
Sava Infond
|
Published: 10.6.2021. 0:00:00
---
Bancna skupina ING skupina je nastala leta 1991 z združitvijo nizozemske Poštne banke in zavarovalnice NN. S serijo prevzemov so postali prisotni tudi na svetovnem trgu.
Leta 2008 jih je financna kriza prisilila, da zaprosijo za državno pomoc. Prvi pogoj je bil, da ING loci svojo bancno in zavarovalniško dejavnost, kar je pomenilo, da je ING ostala samo bancna dejavnost. ING je vodilna banka po tržnem deležu tako na Nizozemskem kot v Belgiji, poleg tega ima nekaj digitalnih bank v Evropi in v Avstraliji.

Trenutne negativne obrestne mere imajo lahko velik vpliv na dojemanje investitorjev glede dobickov ING v takem okolju, ko ne vemo, kako dolgo bodo te ostale na zgodovinsko nizkih ravneh. To je popolnoma razumljivo, saj so neto obrestni prihodki lani predstavljali 77 odstotkov vseh prihodkov. ING je vec kot le stava na zvišanje zgodovinsko nizkih obrestnih mer v Evropi.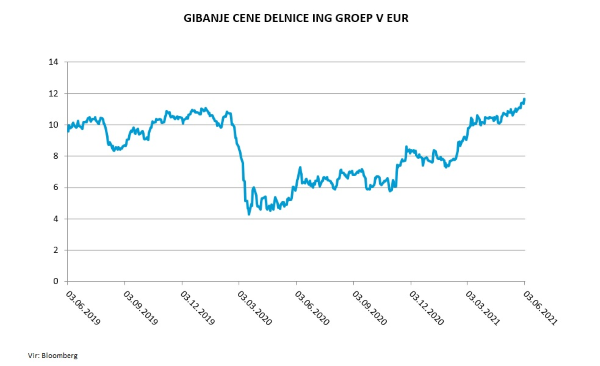 Vir: Bloomberg.
Na podrocju depozitov na njihovih kljucnih trgih so dobro umešceni, kar je tudi njihova kljucna konkurencna prednost. V sedanjem okolju nizkih obrestnih mer je ta konkurencna prednost dokaj neopažena pri investitorjih na financnih trgih. Zanimivo je, da ima ING velik presežek kapitala, saj njihova kapitalska ustreznost znaša 15,5 odstotka. Uprava meri na 12,5-odstotno kapitalsko ustreznost. Vecino presežka kapitala bodo razdelili med delnicarje. Prav tako je pozitivno, da bo njihova geografska strategija manj razpršena, kar obicajno pomeni nižjo zahtevano kapitalsko ustreznost. Oboje bi jim lahko povišalo kreditno oceno ter znižalo stroške zadolževanja na financnih trgih.
Nizozemski bancni trg je eden najbolj koncentriranih in s tem eden najbolj privlacnih v Evropi. 90 odstotkov vseh racunov na Nizozemski je odprto pri treh najvecjih bankah. Takšna raven koncentracije je v precejšnjem nasprotju razdrobljenim bancnim sistemom, ki so znacilni za Evropo. ING ima s 40-odstotnim tržnim deležem vodilno vlogo po številu odprtih racunov. Njihov vodilni tržni položaj se odraža tudi na donosu na kapital, ki znaša za njihovo nizozemsko poslovanje vec kot 20 odstotkov. Po podatkih Evropske centralne banke banke v evroobmocju v povprecju dosegajo 6-odstotni donos na kapital. Druge bancne operacije ING po svetu jim znižujejo donosnost poslovanja, a kljub temu je to ena izmed najdonosnejših evropskih bank.
ING DiBa je digitalna banka ING v Nemciji, ki sicer velja za najmanj zanimiv evropski bancni trg, a kljub temu tam ustvarjajo zadovoljive donose. To velja kot izjemno, a je zelo težko napovedati, kako dolgo jim bo to še uspevalo. Na nemškem digitalnem bancnem trgu se povecuje število konkurentov. Posledica bi lahko bila nižja donosnost poslovanja digitalne banke ING na tem trgu ter približanje povprecnim donosom digitalnih bank v Nemciji.
Zunaj Nizozemske in Nemcije ING ustvarja enomestni donos na kapital. Razumne razlage, zakaj je ING prisotna tudi v drugih državah, saj tam ustvarja podpovprecen donos, ni. Ce bi se ING odlocila, da bo prodala svojo mrežo izven Nemcije in držav Beneluksa, bi to pomenilo povecanje vrednosti za delnicarje ING.
Srednjerocno se njihov konkurencni položaj ne bo spreminjal. Težko je predvideti, kako bi še lahko okrepili svoj konkurencni položaj, in to kljub dobri poziciji na domacem trgu, saj stranke lahko zamenjajo banko brez dodatnih stroškov.
---