Zanimiva delnica: Raytheon Technologies
Sava Infond
|
Published: 9.7.2022. 0:00:00
---
Raytheon Technologies je ameriška multinacionalka, ki je nastala leta 2020 z združitvijo United Technologies in Raytheona. Poslovanje ima, merjeno s prihodki, razdeljeno na približno enako velika dela komercialnega letalstva in vesoljske dobavne verige ter obrambe.

To je redkost v tej industriji. Drugi konkurenti (Boeing, Honeywell International, General Electric, Textron) imajo prihodke precej bolj neenakomerno porazdeljene.

Zanimivo je, da sta pri nastanku Raytheon Technologies oba partnerja prinesla enakovredno velike ter hkrati komplementarne dejavnosti. Kar tri od njihovih štirih dejavnosti imajo izrazite konkurenčne prednosti samo po sebi - Pratt & Whitney, Collins Aerospace in segment obrambe. Izrazitih konkurenčnih prednosti nima le segment produktov in storitev, namenjenih za obveščevalne namene, vesolje in zračne sisteme.
Na začetku so stroški razvoja
Za letalsko in obrambno industrijo je značilno, da imajo najprej visoke stroške razvoja, ki jim kasneje omogočajo visok prosti denarni tok v prihodnjih desetletjih. To še posebej velja za Raytheon Technologies. Viri konkurenčnih prednosti za vsakega izmed segmentov so neopredmetena osnovna sredstva, ki so predvsem inženirska znanja, potrebna za vstop na trg. To ustvarja zelo visoko oviro za vstop na trg za podjetja, ki na njem še niso prisotna, za sedanje stranke pa pomeni, da so skoraj neskončno vezane na obstoječe dobavitelje.

Prekinitev razmerja bi za stranke pomenila izredno visoke stroške zamenjave, ki izvirajo iz poslovnega modela njihovega razvijalca in ponudnika letalskih motorjev Pratt & Whitney. Treba je vedeti, da je načrtovana doba vgrajevanja določenih komponent v tej industriji zelo dolga, saj življenjski cikel produkta traja več desetletij, in to na vseh segmentih. Visoki stroški zamenjave izhajajo iz pomembnosti samega produkta in iz pomanjkanja ustreznih alternativ dobave.

Prat & Whitney ponuja svoje letalske motorje tako za civilne kot vojaške namene. Na vojaškem segmentu imajo izrazito visoko »lepljivo« izpostavljenost, saj so edini ponudnik motorja za F-35, ki je največji vojaški program v zgodovini. Zanimivo je, da so reaktivni motorji za civilna letala (motor GTF) glavno gonilo rasti za ta segment. So dobavitelji družini letal Airbusa A320, A320neo, A220. Modeli A320 bodo v prihodnosti prevladujoča letala z ozkim trupom, kar pomeni visok potencial rasti. Njihov poslovni model deluje po principu, da reaktivne motorje prodajajo z visokimi popusti, tudi z negativno maržo, da dosežejo čim večjo bazo strank, ki jim nato omogoča dostop do visoko lepljivih prihodkov iz servisiranja motorjev.
Pomemben je tudi obrambni program
Collins Aerospace je eden izmed največjih raznovrstnih dobaviteljev komercialnih komponent. Njihov obseg poslovanja jim daje pogajalsko moč glede na proizvajalce letal, saj se lahko odločijo, da ne bodo dali ponudbe za ključne komponente za nova letala.

Njihov segment obrambe zajema rakete, raketne obrambne sisteme, militarizacijo vesolja ter IT storitve za vlade po svetu. Glede na trenutno geopolitično situacijo lahko pričakujemo, da se bodo izdatki držav po svetu za obrambo, razen IT-storitev, občutno povišali, ne glede na to, da smo že zelo blizu recesije in da se je zadolženost držav zaradi pandemije covid-19 občutno povečala.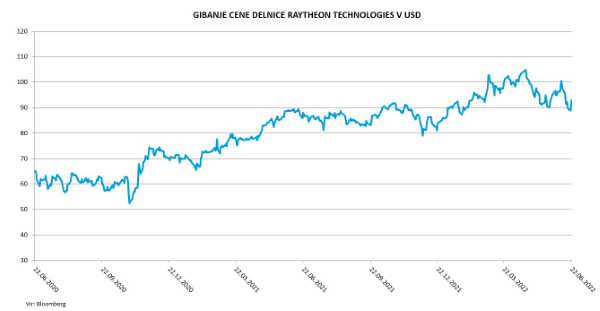 ---