Zanimiva delnica: Exxon Mobil
Sava Infond
|
Published: 6.6.2022. 0:00:00
---
Exxon Mobil je največje svetovno integrirano naftno in plinsko podjetje. Ukvarja se raziskovanjem, proizvodnjo in rafiniranjem. Vodilni so tudi pri rezervah nafte in plina. So eni izmed redkih v sektorju energije, ki so imeli vse do leta 2020 pozitiven prosti denarni tok. To leto je bilo zanje rekordno slabo zaradi zaprtij gospodarstev po svetu, kot posledica ukrepov proti covidu-19. V letu 2021 se je slika obrnila in dosegli so najboljše rezultate v svoji zgodovini.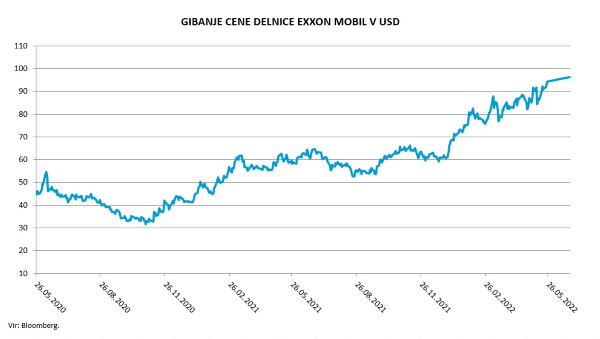 Večina konkurentov je napovedala, da bodo precej investicij preusmerili v obnovljive vire energije, da bi dolgoročno dosegli znižanje emisij izpustov toplogrednih plinov. Exxon Mobil pa ostaja predvsem v naftnem in plinskem poslu, ob tem v omejenem deležu investirajo tudi v tehnologije z nizkim ogljičnim odtisom - to je bil njihov odziv na vse pogostejša vprašanja finančne javnosti o njihovih bodočih investicijah v obnovljive vire energije. Večina jih je seveda namenjena nafti in plinu. Njihova strategija verjetno ne bo prejela pohval okoljsko naravnanih vlagateljev. Zelo verjetno se bo izkazala za učinkovitejšo in, kar je še bolj paradoksalno, zelo verjetno predstavlja manjše tveganje.
Manj investicij, več za dividende
Svoje agresivne načrte investicij v obdobju od 2022 do 2026 so znižali za 30 odstotkov, s ciljem zadovoljiti lastnike. To jim bo omogočalo stabilno izplačevanje dividende v poslovnem okolju, ko bo cena nafte okoli 50 USD za sodček. Po trenutnih projekcijah naj bi se dobiček in denarni tok v letu 2027 glede na leto 2019 podvojila. Razlog je v strukturni stroškovni učinkovitosti in novih projektih z visoko maržo.

Količinska proizvodnja se bo do leta 2027 le zmerno povečala, a dobičkonosnost portfelja naj bi izboljšali predvsem projekt v Gvajani (preko 850 milijonov sodov ekvivalenta nafte na dan do leta 2027), ki ima visoko maržo, zaustavitev upada črpanja plina v Severni Ameriki ter odprodaja projektov z nižjo maržo. Njihovi izredno kakovostni projekti so na jugu Združenih držav Amerike, v tako imenovanem Permskem bazenu, in jim omogočajo kapitalsko fleksibilnost. Do leta 2027 predvidevajo, da bodo dnevno kapaciteto s sedanjih več kot 500 povečali na vsaj 800 milijonov sodčkov na dan.
Donosnejši od tekmecev
Njihov segment rafinerij in kemije je trpel zaradi nizke marže, ki jo je imela ta industrija v zadnjem desetletju. Opozoriti je treba, da se tržne razmere na tem segmentu počasi izboljšujejo in približujejo ravnem, ki so značilne za sredino cikla. Naložbe na segmentu rafiniranja bodo usmerjene v proizvodnjo maziv višjih vrednosti in dizelsko gorivo, na področju kemije pa na zmogljive izdelke. Posledica tega bodo višje marže in dobički za lastnike Exxon Mobila.

Njihove konkurenčne prednosti so v primerjavi s konkurenčnim položajem pred desetimi leti sicer oslabele. Njihova ključna konkurenčna prednost je integriran model poslovanja. V preteklosti je Exxon Mobil slovel kot najbolj kakovostno podjetje z integriranim poslovnim modelom v tem sektorju. Konkurenca, ki posluje s podobnimi poslovnimi modeli in z enakim ciljem, pa v večini primerov ni uspela ponoviti uspeha, kar se kaže v nižjih maržah in donosih v primerjavi z Exxon Mobilom. Ta razlika se najbolj kaže pri donosnosti prostega denarnega toka, ki je za leto 2021 pri Exxon Mobil znašala 11,4 odstotka, pri konkurenci pa 10,4 odstotka.
---