Mandatory hallmarking: a step towards improving trust among Indian consumers
World Gold Council
|
Published: 13.10.2021. 0:00:00
---
Mandatory hallmarking for gold jewellery and gold artefacts came into effect on 16 June 2021. It applies to six categories of gold: 14k, 18k, 20k, 22k, 23k and 24k. The mandatory scheme is being implemented in three phases with 256 districts covered in the first phase.
Our report discusses:
guidelines under mandatory hallmarking
the hallmarking unique ID (HUID) system, transitional issues with HUID and its current status
likely developments following the implementation of mandatory hallmarking in India.
We believe that mandatory hallmarking will be positive for India's gold market, improving transparency and giving consumers more confidence in the purity of the gold they buy. With no opportunity for under-carating, retailers may place greater emphasis on design and customer service enhancements. Mandatory hallmarking should boost the reputation of the Indian gold market and has the potential to increase jewellery exports.
The journey towards mandatory hallmarking
The Bureau of Indian Standards (BIS) system of hallmarking gold jewellery (Focus 1), initially introduced in April 2000, was originally a voluntary scheme. Through its network of regional/branch offices across the country the BIS would grant licences to certify the purity of gold jewellery in accordance with BIS Standard IS1417.
The new BIS Act 2016 came into force in October 2017, establishing the BIS as the National Standards Body of India. In June 2018, the BIS (Hallmarking) Regulation was introduced, laying the roadmap for mandatory hallmarking of gold and silver jewellery and artefacts, and bringing greater transparency to the sector.
The Department of Consumer Affairs issued an order on 15 January 2020 under which hallmarking of gold jewellery and gold artefacts would be mandatory, effective one year later. However, the plans were distorted by the onset of COVID-19 and the effective date was pushed back by six months to 16 June 2021. The trade, already reeling from the pandemic and its devastating impact on jewellery demand (Chart 1), raised concerns about insufficient assaying infrastructure in many
towns. Mandatory hallmarking was therefore implemented in three phases, with 256 districts – largely those with high volume manufacturing and strong consumer demand, and well served by assaying centres – coming under the first phase of implementation on 16 June 2021.
Focus 1: What is hallmarking?
As per the BIS, hallmarking is the accurate determination and official recording of the proportionate content of precious metal in precious metal articles. Hallmarks are official marks used in many countries as a guarantee of purity or fineness of precious metals articles, providing third party assurances and satisfaction for the consumer. With the accurate caratage officially recorded, hallmarked jewellery also guarantees the maximum return value when old jewellery is exchanged or recycled.
Between 1 January 2017 and the introduction of hallmarking unique ID (HUID) on 1 July 2021, a hallmarked piece of jewellery had four signs: the BIS mark, the purity in carat and fineness, the assaying and hallmarking centre identification mark, and the jeweller's own identification mark. Under the new HUID system hallmarking is signified by three symbols: the BIS mark, the purity in carat and fineness, and the HUID mark. The cost of hallmarking is capped at INR 35 (US$0.5) per article of jewellery.
Chart 1: Indian gold jewellery demand fell by 42% y-o-y in 2020 due to the disruption from COVID-19 Indian annual gold jewellery demand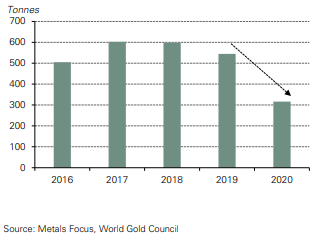 Guidelines under mandatory hallmarking

Mandatory hallmarking is applied to six categories of gold: 14k, 18k, 20k, 22k, 23k and 24k. Jewellery of other purities is not permitted to be sold with hallmarks. Certain items are, however, excluded, such as:
gold articles below 2 grams in weight,
gold articles destined for export and re-import,
articles intended for international exhibitions and/or government-approved business-to-business exhibitions
watches, fountain pens and special categories of jewellery such as Kundan, Polki and Jadau.
Manufacturers, wholesalers and retailers must be registered with the BIS to be permitted to sell hallmarked gold jewellery and artefacts. Jewellers with annual sales turnover below Rs40lakh (~US$54,000) are excluded from the scheme but can register with the BIS if they wish to sell hallmarked jewellery.
Further guidelines were announced in June 2021 to allow the industry to fully embrace the economic recovery and ensure substantive consumer protection, including:
to allow enough time to comply with the new regime, penalties were delayed until the end of August 2021
the purchase of non-hallmarked jewellery from consumers was permitted
jewellery stocks hallmarked before 16 June 2021 do not need to be melted and re-hallmarked
goldsmiths or artisans who do job work for manufacturers, wholesalers or retailers are not required to register with the BIS.
Introduction of HUID
The HUID could be transformative for the jewellery sector and may provide a model that can be emulated in other markets using technology. The HUID is laser marked and shows the identity of both the jewellery seller and the assaying centre (Figure 1). HUID aims to ensure the integrity of hallmarking using integrated technology and helps to address consumer complaints about inconsistent quality of hallmarked jewellery. This traceability will enhance consumer confidence and has been welcomed by
some sections of the trade.
Implementation of HUID created initial delays and operational challenges
HUID digitises the system of tracking jewellery articles. However, the initial surge in jewellery items sent for hallmarking created problems due to teething issues with the adoption of HUID technology. As a result, the system has been implemented only partially, with HUID imprinted on jewellery items and in the digital records of the assaying centres, but not integrated with the records of the jewellers or manufacturers.
HUID is a lengthy and laborious process, involving various sequential processes such as tagging a jewellery article with a code, uploading its net weight and x-ray fluorescence (XRF), and sampling and stages of fire assay. The time of each activity must be recorded and a six-digit HUID code downloaded from the BIS portal and laser marked on to the jewellery article. The real-time process of uploading this information was not automated and hence took up to three times longer than the earlier regime,
creating delays in the hallmarking process in the initial phase of HUID implementation as well as operational challenges for retailers.
The HUID process has now stabilised and the pace of hallmarking is increasing
Enhancements made to the software used in the automation of the HUID process has resulted in a gradual increase in hallmarking. According to the BIS, 1.428mn jewellery pieces were hallmarked between 1 July and 15 July, increasing to 4.181mn during the period 1 August to 15 August. And by 20 August, 0.39mn jewellery pieces had been hallmarked in a single day.
Key developments after mandatory hallmarking
The Indian jewellery industry sought clarification from BIS on the new rules. Some of the responses from BIS have been included in the FAQ section of mandatory hallmarking on its portal although it has yet to officially confirm these amendments. The points covered on the portal are:
manufacturers and retailers are allowed to stamp their logos on the jewellery in addition to the hallmark
there is no expiry date for hallmarked jewellery
in cases where the jewellery is made of two metals, hallmarking is only mandatory for gold and silver components
jewellers can make alterations (add or take away elements) to the jewellery up to 2g or 50% of its weight, whichever is lower.
Jewellers across India staged a one-day token strike in August, protesting against HUID as they believed that the new system could allow inventory movements to be tracked. Following the strike, the Union Minister of Consumer Affairs met with trade leaders on 28 August and made some key announcements:
the tracking mechanism will be completely removed from the HUID system and HUID will be implemented only on assaying and hallmarking centres and not on jewellery retailers or at the consumer level
jewellery manufacturers, wholesalers and retailers will receive an additional three months to clear their nonhallmarked inventories and, until 30 November, no
charges or penalties will be levied for not conforming to the new hallmarking rules
large corporate jewellers can start their own hallmarking centres and can retail jewellery hallmarked in their own centres
hallmarking up to 10 pieces of jewellery will be based on XRF and there will be no requirement for the sampling and fire assay test.
Although the recent announcements by the Minister of Consumer Affairs have helped to addresses industry concerns, they may compromise the protection offered to the consumer regarding quality and purity of the hallmarked jewellery they buy. First, allowing large corporate jewellers to do their own hallmarking for their in-house products could lead to a conflict of interest and could affect the credibility, impartiality and operational integrity of the hallmarking scheme, thus damaging consumer trust.
Second, providing hallmarking with XRF may lead to severe malpractice by jewellery manufacturers, tarnishing the reputation of the mandatory hallmarking system and throwing into question the quality of jewellery exports from India.
Conclusion
Despite concerns and challenges, mandatory hallmarking is a step towards the healthy development of the industry. It should create a level playing field for small and single retailers. However, mandatory hallmarking is likely to increase costs for single store small retailers with annual sales turnover above Rs40 lakh (US$54,000), as they will have to melt their unsold non-hallmarked jewellery before the end of November or pay for that jewellery to be hallmarked. These higher costs could lead to a
consolidation among small retailers, which in turn could lead to a more organised and formal jewellery industry.
Mandatory hallmarking and HUID may also improve transparency throughout the gold trade, leading to higher imports through official channels. This should boost the reputation of the Indian gold market and potentially increase jewellery exports.
For consumers, we believe that mandatory hallmarking will be positive: improving transparency in the gold trade and giving consumers more confidence in the purity of the gold they buy. With no opportunity for under-caratage, retailers may focus on design and customisation, offering better service and choice to customers rather than playing on the gold price.
As the markets start to recover from lockdown the revival in gold demand will depend on the COVID-related behaviours of both consumers and the trade. The pandemic has already convinced many jewellers to adopt online sales channels and mandatory hallmarking may further enhance consumer trust in digital purchases.
---