Zanimiva delnica: Diageo
Sava Infond
|
Published: 10.8.2023. 0:00:00
---
Diageo (v nadaljevanju DGE) je nastal leta 1997 z združitvijo podjetij Grand Metropolitan in Guinness. Gre za vodilnega proizvajalca premijskih žganih pijač. Za DGE je značilno, da ima izjemno močne blagovne znamke. Poleg tega proizvaja tudi pivo in vino. Njegove vodilne blagovne znamke so viski Johnnie Walker, vodka Smirnoff, viski Crown Royal Canadian, rum Captain Morgan, tekila Casamigos, džin Tanqueray, Baileys Irish Cream in temno pivo Guinness. DGE ima tudi 34-odstotni lastniški delež v proizvajalcu premium penine in konjaka Moet Hennessy, ki je hčerinsko podjetje francoskega proizvajalca luksuznih izdelkov LVMH Moet Hennessy Louis Vuitton, ter skoraj 56-odstotni delež v indijskem podjetju United Spirits.
DGE ima izrazite konkurenčne prednosti, ki izhajajo iz njihovih neopredmetenih sredstev. Le-ta ustvarjajo visoke ovire za vstop v ključne segmente njihovega poslovanja. V nekaterih zrelih segmentih imajo tudi stroškovno prednost. Konkurenčne prednosti se razlikujejo glede na segment. V zadnjih letih so bili določene industrije pijač ranljive zaradi vstopa novih konkurentov, a to večinoma ne drži za proizvajalce žganih pijač.
Velika koncentracija
Za industrijo žganih pijač je značilno, da je že dokaj skoncentrirana – štiri največja podjetja skupaj imajo kar okoli 60 odstotkov trga (pri pivovarski industriji imajo 50 odstotkov trga le štirje največji). Gre za največjo koncentracijo znotraj sektorja osnovnih potrošnih dobrin. Preostanek te industrije je izjemno razdrobljen, pri čemer regionalni igralci pogosto prevladujejo v specifičnih kategorijah izdelkov ali na lokalnih trgih. To ponuja DGE možnost rasti tudi preko prevzemov na razvijajočih se trgih.
Še en razlog za nadaljnjo konsolidacijo DGE je razširitev njihovega portfelja izdelkov, kar je pomembna strategija na trgu gostinske dejavnosti prek neposredne prodaje v lokalih, barih. Obseg v industriji žganih pijač je precej stabilen (čeprav bolj cikličen kot pri pivu), vendar pa se trendi nenehno spreminjajo. Na primer, trenutni premik stran od belih žganih pijač (predvsem vodke) k rjavim žganim pijačam predstavlja nasprotje trendu iz 90. let prejšnjega stoletja. DGE je pomemben igralec na različnih kategorijah in to tako z globalnimi kot nišnimi blagovnimi znamkami. Tako zniža tveganje, ki bi nastalo zaradi potencialno spremenjenega okusa in želja potrošnikov.
DGE sledi strategiji premijske umestitve na trg. To bo pomemben dolgoročni dejavnik tako za obseg kot tudi za prodajne cene. Trenutno na zrelih trgih poteka proces, ko žgane pijače pridobivajo delež na račun piva in vina, pri čemer potrošniki izbirajo višji cenovni razred vseh pijač. V zadnjem desetletju je ta trend opazen tako v ZDA kot Veliki Britaniji. Kategorija žganih pijač se je letno povišala za 20 bazičnih točk na račun vina in piva. Nadaljevanje tega trenda bi pomenilo količinsko rast prodaje DGE na razvitih trgih in to kljub težavam zaradi zmanjševanje potrošnje alkohola. Zahteva po preverjanju starosti ob prodaji alkohola je omejila rast segmenta spletne trgovine, ki olajša vstop novih udeležencev v druge segmente, delež in obseg privatnih blagovnih znamk v trgovinah s popusti pa so zanemarljivi pri žganih pijačah. Imajo velik cenovni potencial zaradi nadaljevanja premijskega umeščanja njihovih ključnih blagovnih znamk v portfelju. Česa podobnega ne moremo trditi za večino podjetij iz sektorja osnovnih potrošnih dobrin.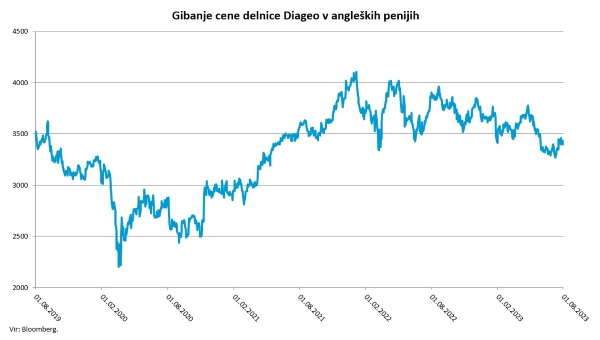 ---