Zanimiva delnica: Eli Lilly
Sava Infond
|
Published: 11.9.2023. 0:00:00
---
Eli Lilly je tretje največje farmacevtsko podjetje v svetu, merjeno po tržni kapitalizaciji. Specializirani so za razvoj in proizvodnjo zdravil. Osredotočeni so na področja nevroznanosti, kardiometabolike, raka in imunologije. Njihovi ključni izdelki vključujejo verzenio (za zdravljenje raka), za zdravljenje diabetesa se uporabljajo jardiance, trulicity, humalog, humulin ter mounjaro, ki ima kot stranski učinek učinkovito zniževanje telesne teže, zato se predpisuje tudi samo za ta namen in ima zelo visok potencial, taltz in olumiant pa se uporabljata za zdravljenje imunoloških bolezni.
Eli Lilly se od konkurentov loči po inovativni kulturi in visokih investicijah v razvoj prihodnjih generacij zdravil, s čimer spodbujajo svojo dolgoročno rast. Leta 2014 se je izteklo patentno varstvo kar nekaj mjihovim produktom. Z razvojem več novih, zelo uspešnih produktov so v nekaj letih nadomestili izpad.
Družba zmore omejiti tudi zmanjšanje prihodkov, ki bo izviralo iz izgube patentov v prihodnjih desetih letih, saj imajo izredno močan interni razvoj novih produktov. Običajno na leto namenijo do 25 odstotkov prihodkov za financiranje razvoja novih zdravil, kar je precej nad konkurenco, ki namenja okoli 20 odstotkov. Njihov močni razvoj novih zdravil je posledica strateške usmeritve k raziskavam. Med njihovimi zdravili, ki so na trgu, imajo najvišji potencial za prodajo zdravila za kardiometabolne bolezni mounjaro (hkrati je izredno učinkovito pri zniževanju telesne teže), trulicity in jardiance ter imunološko zdravilo taltz, skupaj z zdravilom za raka verzenio. Visok potencial prodaje imajo tudi zdravila, ki še niso na trgu, so pa v zaključni fazi kliničnih študij in bi lahko že letos prišla na trg. To so lebrikizumab (za atopijski dermatitis), mirikizumab (imunologijo) in donanemab (za Alzheimerjevo bolezen).
Tudi njihova močna prisotnost v proizvodnji inzulina bi jim morala pomagati obvladovati izgubo patentov. V nasprotju s tradicionalnimi zdravili njihova zdravila na osnovi inzulina proizvajalci generičnih zdravil zelo težko kopirajo. Tako se ustvarjajo ovire za vstop novih proizvajalcev inzulina zaradi velikih začetnih naložb, potrebnih za ustvarjanje učinkovitega obsega. Nov tedenski insulin, ki je v zaključni fazi razvoja, ponuja še eno pot rasti na tem zrelem trgu.
Imajo učinkovit nadzor nad stroški ter jih hkrati skrbno preučujejo. V prihodnje lahko pričakujemo pozitiven vpliv na povišanje marže iz poslovanja zaradi prihrankov pri stroških in visoke rasti prihodkov, bruto maržo pa bodo lahko še povečali z aktivnostmi za povečanje produktivnosti in večje izkoriščenosti kapacitet. To tezo potrjujejo tudi nova zdravila, ki so jih ponudili trgu in imajo visoke marže ter pri tem pomagajo pri več različnih indikacijah.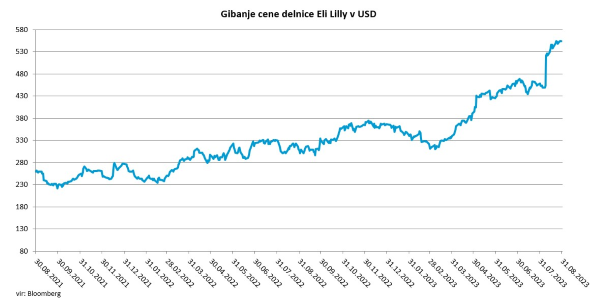 Njihove izrazite konkurenčne prednosti se na dolgi rok ne bodo poslabšale. Čeprav bodo izgube patentov v prihodnjih petih letih vplivale na nižjo prodajo, bo na drugi strani močna razvojna linija skupaj s stabilnimi, že uveljavljenimi zdravili vzrok za okoli 15-odstotno letno rast prihodkov v istem obdobju. Treba je tudi opozoriti, da je v ceni njihove delnice upoštevan optimistični scenarij bodočega poslovanja – trg pričakuje skoraj 20-odstotno rast prodaje v naslednjih petih letih. Možnosti za pozitivna presenečenja obstajajo, tako so tudi pri zadnjih četrtletnih rezultatih avgusta letos imeli kar 22-odstotno prilagojeno rast prihodkov.
---